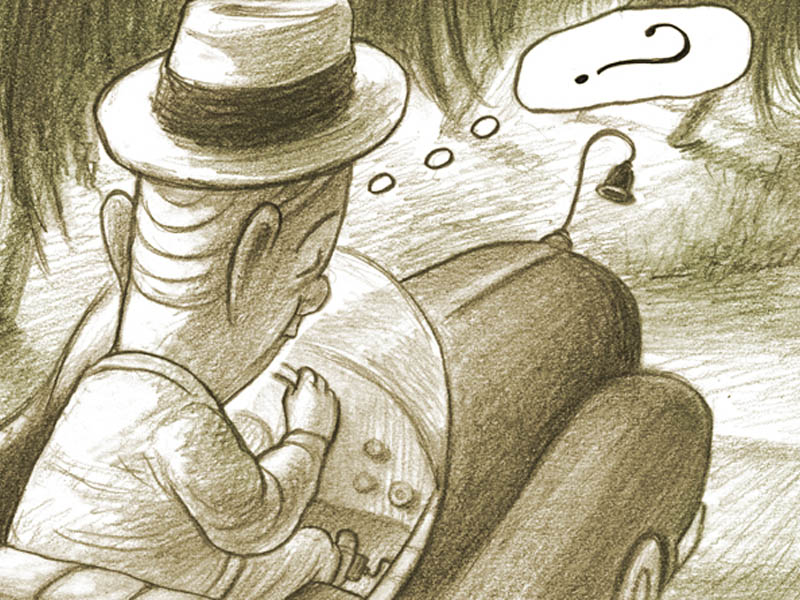 About the Author
Cathy Malkasian has been writing graphic novels since 2006. She's also spent more than twenty years working in television and film animation as a director, storyboard artist, and designer.
Her graphic novels are allegorical versions of current events, with philosophical questions scattered throughout. They deal more with ideas and relationships than gratuitous sex and violence. All the stories deepen with repeated readings, and the artwork is intended to draw readers into a series of scenes, rather than remind them that they are looking at panels on a page.
A summary of her work in animation can be found at IMDb.com (the Internet Movie Database).
Film:
Wild Thornberrys Movie (Paramount). Co-director. 2002.
Television:
Curious George TV (Universal). Direction and storyboarding. 2005-2012.
The Wild Thornberrys television series (Klasky-Csupo). Director. 1997-2000.
As Told by Ginger (Klasky-Csupo). Director. 2000.
Psyko Ferret pilot (Klasky-Csupo). Director/storyboard artist. 2000.
Rugrats (Klasky-Csupo). Director. 2000.
Stressed Eric (Klasky-Csupo). Director. 1998.
Wild Thornberrys pilot (Klasky-Csupo) Co-Director. 1997.
Jumanji (Sony). Director. 1996-1997.
Duckman (Klasky-Csupo). Storyboard artist. 1995.
Aaahh!! Real Monsters (Klasky-Csupo). Background designer, storyboard artist. 1994.
Video:
HIDING IN HAPPYTOWN. Animatic series. 2013.
Books:
PERCY GLOOM (2007). Graphic novel. Fantagraphics, publisher.
TEMPERANCE (2010). Graphic novel. Fantagraphics, publisher.
WAKE UP, PERCY GLOOM! (2013). Graphic novel. Fantagraphics, publisher.
EARTHA (2017). Graphic novel. Fantagraphics, publisher.
Awards and nominations:
2001 Psyko Ferret; Pulcinella award/Cartoons on the Bay: Best TV series for young adults and adults.
2003 Wild Thornberrys Movie. BAFTA nomination: Best feature film.
2008 PERCY GLOOM Eisner award: Most Promising Newcomer. Eisner nomination: Best Graphic Novel.
2008. Inclusion in THE BEST AMERICAN COMICS, 2008, edited by Lynda Barry. Houghton Mifflin, publisher.
2009, 2012 Curious George. Emmy nominations: Best children's series; Best direction.
2010, 2008 Curious George. Emmy awards: Best children's animated series.
2018 EARTHA SPX Ignatz Award nominee: Outstanding Graphic Novel.
2018 EARTHA Eisner nominations: Best Graphic album--new; Best writer/artist.
2018 EARTHA. Pennsylvania Center for the Book Lynd Ward Graphic Novel honoree.
Miscellaneous:
Voice actor, the Curious George stage show. 2009.