PERCY GLOOM
is all about the trouble we get into when we live in fear. When in a state of fear we'll all too easily follow the strongest-seeming leader, rather than think for ourselves. The title character is by all appearances a weak little fellow, but over the course of the story he finds he's much stronger than he realized. Eventually he has to confront the town bully who's got everyone cowering under her reign of terror.
Characters in Percy Gloom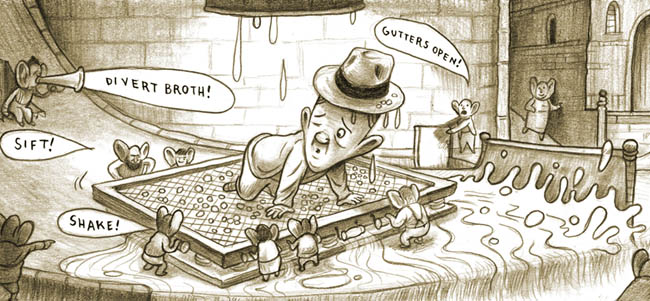 Reviews of Percy Gloom
Satire? Nightmare? Fairy tale for adults? Such have been the terms used to describe
Percy Gloom
, the new graphic novel from
Fantagraphics Books.
---
The Comics Reporter
by Tom Spurgeon ©
Fantagraphics decided to publish Cathy Malkasian's lovely new graphic novel
Percy Gloom
after seeing the first third of it. This act of faith may not have been extravagant, but it likely paid off better than they can imagine. While the author's first sustained comics work carries considerable surface charms which you can see from page one, the book's greatest strength is how well it all comes together as a singular, creative statement. It's rare to see a graphic novel that evolves and changes throughout, becoming complete only on its last page. It's uncommon to see any long comics work this good from a first-time author.
Percy Gloom
is one of the best books out this year.
I was prepared to hate it. Fragile Percy Gloom ventures forward from his room in hopes of landing his dream job: writing cautionary literature about the dangers inherent in everyday items. Becoming an object of desire for one of the city's leading lights after healing her toenail with his saliva -- the first time in the history of the world that particular sentence has been written -- Gloom slowly sheds the grief caused by the loss of a loved one and despite his own inward nature begins to assume a major role in the community's secret, ongoing drama.
In less assured hands,
Percy Gloom
might have been another offering in a recent wave of works featuring fairy-tale settings and hearts worn on sleeves. Malkasian, perhaps learning from the structural storytelling demands that come with directing feature film-length work, has put together a consistently rewarding narrative that builds to a series of satisfying climaxes, each of which re-casts the entire work in a slightly new way. Her artwork is somber yet attractive; her designs are sturdy and even spry; her understanding of comics pacing through panel structure and directing the eye are judiciously applied. Most importantly, her conceptual set pieces are strong enough to reward deeper exploration, opportunities for which prove ample because of the deliberate pacing. Unlike many cartoonists, Malkasian introduces ideas into her longer work that are clever enough you want to share them with people independent of the comic, and she uses them to make statements of value that correspond to her themes.
Beyond testifying as to Malkasian's skill and describing the parameters in which she's decided to work, I'm not sure how much there is to say about
Percy Gloom
other than I recommend you read it. This kind of arch, adult fantasy is likely not everyone's cup of tea, and some may have no use for patiently dispensed life lessons no matter how seamlessly they're brought to light. For my part, I can't imagine we'll see a more assured and surprising debut this year.
---
By Cory Doctorow ©
June 3, 2007
I just read Cathy Malkasian's
Percy Gloom
(scored from the new release table at LA's Secret Headquarters), a charming, sweet, weird little hardcover graphic novel from Fantagraphics.
Percy Gloom lives with his mother, an inventor. His father, a Gloom, killed himself with the Gloom death-slap shortly before he was born. All his life, Percy Gloom has dreamt of writing cautionary advisories on products -- WARNING, DO NOT STICK HAIRBRUSH IN EAR -- and when the story opens, he's finally gotten a chance to interview for a position doing just that.
Lazy-eyed, balding, jug-eared Percy sets off in his fedora and pedal car to interview for the job, but he's sidetracked by his hunger, which can only be satisfied by muffins and lemon juice. In town, he meets a whole cast of characters, some nice and some terrible, and ends up with an infected foot jammed in his mouth.
Percy's troubles have just started, and as the story unfolds, we get more of his backstory -- very unhappy indeed -- and life inside the cautionary writing company, and a city in the grips of a death-eating immortality cult.
This all has the charm of something like Howl's
Moving Castle
or
Yellow Submarine,
and Percy and his friends are drawn in a lovely, old-timey way that made me smile on every page. This is a big, solid, handsome hardcover that sells for $13 on Amazon, a stellar deal.
---
PW Comics Week
Publishers Weekly
June 3, 2007
By Chris Barsanti ©
If it's intended as a nightmare, then the whole enterprise has a strangely pleasing look about it.
Percy Gloom
is the first graphic novel from children's film and TV director Cathy Malkasian (Rugrats, The Wild Thornberrys Movie), and as debuts go, it's hard to beat. A fantasy landscape drawn in looping, fairy tale swirls and telling a story redolent with totalitarian darkness, Gloom is an unsettling mixture of whimsy and evil, like a Kafka tale retold in the spirit of Dr. Seuss's
The 500 Hats of Bartholomew Cubbins.
The titular character is a little sad sack of a lazy-eyed guy who suffers mightily in a strange world where he is afflicted by everything from an Orwellian bureaucracy to an impossibly weak stomach (the only things Percy can safely consume are buckwheat muffins and lemon juice). Along the way, Malkasian packs in satirical jabs at everything from mind-over-matter fads ("Medicine is poison!") to the modern world's obsession with safety (Percy finds a job at the Cautionary Writing Institute, coming up with warning labels for any product under the sun). It all ends—as more books should—with a song performed by goats.
---
From Publishers Weekly
Malkasian is an accomplished animation director so it's a pleasant surprise that her first graphic novel is so literary. Her surreal world grapples with many deep themes. The eponymous character has always dreamt of working for Safely-Now, the company that puts warning signs on household objects. The road to Percy's dream job lands him in many weird situations with cults playing a major role in both his past and present. The entire Safely-Now operation seems to be run by maniacs, with the kindest people Percy meets the talking goats. Within all these imaginative creations lie ruminations on topics such as living a cautionary life, the value of life itself and imminence of death. It's an ambitious project, but Malkasian infuses the book with a mythic spirit that fits just right. The appealingly grotesque look—curved buildings and endless staircases—has a solidity that helps the strange world make sense on its own terms. The tinted duotone makes the book look like an instant antique. It's clear that Malkasian is more interested in cosmic questions than a tight plot, but since she weighs those questions so well, it's easy to appreciate how good this book is.
Copyright © Reed Business Information, a division of Reed Elsevier Inc. All rights reserved.
From Booklist
By Francisca Goldsmith
Cautious beyond reason or sanity, balloon-headed Percy Gloom carries with him a groaning case of hunger that can give his presence away in ticklish situations. He looks for employment in an appropriate place--a firm that composes the cautionary notes attached to consumer goods--yet finds there a distressing damsel with an eventually explained mean streak. His world is fittingly sepia-shaded and full of rounded objects, including his toylike car, the landscapes, and even the angles on the head of his pal Bernard. If Percy's world were any gloomier or softer-toned, it would be irritating, but Malkasian invests it with enough wit and slyness to maintain a quick, quirky pace. Not to be confused with Serena Valentino and Ted Naifeh's Gloom Cookie comics, this is a one-off existential ditty, goat song included.
Copyright © American Library Association. All rights reserved.
---
The Savage Critic(s)
Smart-ass comic reviews, and comics retailing intelligence, by Brian Hibbs, owner of San Francisco's Comix Experience. (And friends!)
May 30, 2007
By Graeme McMillan ©

Little Short One, Pt. 1: Graeme rushes in, tells you to buy Gloom.
I was explaining
Percy Gloom
to someone the other day, and the best I could come up with was that it was a philosophical story done by David Lynch and Walt Disney (but without the Nazi thing) in a beautiful, somewhat retro pencil style but with a depressed, disassociative voice similar to Chris Ware's stuff.
The person I was talking to looked as if I was insane, and then walked away wondering what I was on about. The last comic that they'd read was Mike Zeck's
Punisher
in the '80s, and I think they probably regretted asking what I was reading these days.
Nonetheless,
Percy Gloom
is a wonderful book, a fairy tale for grown-ups who've lost their faith in humanity and want to get it back. It's calm and gentle in the best way, without sacrificing narrative thrust - What little there is, admittedly, but it's there - but present in such a manner as to making it impossible not to fall for the main character or the book. The entire thing has a dreamlike quality, both in terms of the illogical logic and the old-fashioned, formally daring artwork, and the book itself works best on that level for me; I don't want to analyze it that far for fear of destroying my enjoyment of it, but suffice to say that it is an Excellent book and a leader in the recent spate of worthwhile graphic novels released (See also
The Homeless Channel,
also out this week,
PLAIN Janes,
out last week and the upcoming and still to be released
The Black Diamond Detective Agency);
those looking to spend pennies should have a problem deciding what to spend them on right now...